Coronavirus: Unfortunately we had to take the difficult decision to postpone this conference. The next LINAC will now be held between 28 August - 2 September 2022. A smaller online event will be held this year between 1-4 September. More information and instructions on how to join can be found on this website. We would like to thank everyone for their interest and support and look forward to seeing you in Liverpool for LINAC in 2022! Please find further information for the re-arranged Linac2022 Conference in Liverpool at: www.linac2022.org.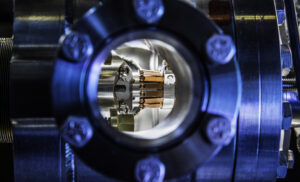 Linac 2020 Chairs' Welcome
On behalf of the LINAC2020 Local Organizing Committee, we unfortunately need to make you officially aware that owing to the global Covid-19 pandemic, we have been forced to postpone the physical hosting of the 30th Linear Accelerator Conference (LINAC), which was due to be held at the Arena and Convention Centre (ACC) in Liverpool, UK from 30 August - 4 September 2020. The Linac International Organising Committee (IOC) has unanimously approved this decision, whilst also deciding that postponing the conference for a single-year to 2021 would not be favourable, owing to potential complications with other large conferences which are also scheduled for late-summer and Autumn in 2021, most notably FEL'21, IBIC'21, LLRF'21 and SRF'21 and so the preference therefore would be for a 2-year postponement to 2022.
Having now re-negotiated and confirmed our contractual arrangements with the ACC venue, we are able to announce that the re-arranged physical-hosting of the next Linac Conference will take place from Sunday 28th August to Friday 2nd September 2022 at the ACC in Liverpool, with its denotation becoming Linac2022. More information on its provisioning will be made available on the official conference web site in due course at: https://linac2020.org/. Subsequently, it must be noted that the original Linac2022 Conference being prepared, will now also adjust to 2024 in Chicago, with the same responsible Local Organising Committee.
Having to re-arrange hosting of the Linac2020 Conference by 2-years is obviously an incredibly difficult and disappointing decision that we have had to make under these tremendously challenging circumstances, particularly when there has been so many new and exciting developments in the field of Linear Accelerators over the past 2-years since the last Linac Conference in Beijing in 2018.
In order therefore to reduce the dramatic lack of visibility and promotion of new Linac activities and developments, we have worked in consultation with the Linac IOC and the Linac2020 Scientific Programme Committee, to identify a solution which would allow for a 'Virtual Linac Event' to be hosted, which could accommodate a significant fraction of the original Linac2020 scientific programme. Whilst details are still being developed and finalised, it is proposed to host a Zoom-based multi-day programme over the same original dates for Linac2020 i.e. Tuesday 1st – Friday 4th September. The event will encompass afternoon (UK Time) sessions, in order to best capture North America and Asia participants. The programme can be found on this website and information about how to join was emailed to all registered participants.
We look forward to seeing you 'Virtually' in September 2020 and in person in Liverpool in September 2022!
Graeme Burt (Cockcroft Institute – Lancaster University)
Scientific Programme Committee Chair
Peter McIntosh (Cockcroft Institute – STFC ASTeC)
International Organising Committee Chair
Carsten P Welsch (Cockcroft Institute – Liverpool University)
Local Organising Committee Chair
Contact Us
For more information or help using this site, please click the button to contact us via email.